Summer must be the time of year most awaited by everyone, and who does not like vacation days where you can go out and enjoy with your family and friends? It is the time where we should most relax after long days of work that we did and therefore it is good to put stress aside. Surely you think that everything is good in the summer, well, not so much and I will tell you why; If there is something that bothers some in the summer it is the excessive heat, none of us like that feeling of discomfort that sweat causes on our body due to the imposing sun characteristic of this time, unless we are on the beach or in the pool enjoying of this.
Comfort & Style
Nothing speaks more about summer than shorts, since we will always want to have less clothes to keep our body cool. This year new trends come in shorts short framed in the spring-summer fashion. Different styles, colors and patterns are what is being used the most and to which you can add your own style to be even more original.
If you don't know how to wear them, don't worry, that's what we're here for. We will teach you basic tips to be able to choose the ideal short for you and, also, for the occasion in which you are. We assure you that you will not regret buying one of these shorts or any that resembles it to have it as one of your main garments in your wardrobe.
Chino-style shorts with print
We were talking about summer, right? Well, we assure you that nothing speaks more of summer or spring like printed shorts. These styles are ideal for going to the beach, for a walk in a square with friends, to go to the pool or for a casual meal. We recommend that you be very careful not to use a very beachy print at night if you go somewhere more closed.
Sports style shorts
Do you want to play tennis or soccer near the beach or in a tourist center? These shorts are ideal, not only for their comfort, but because they will give you a youthful and very fresh look, combine it with white or black sports shoes (the basic ones that always combine with everything) and you will be ready to win the game.
Denim-style shorts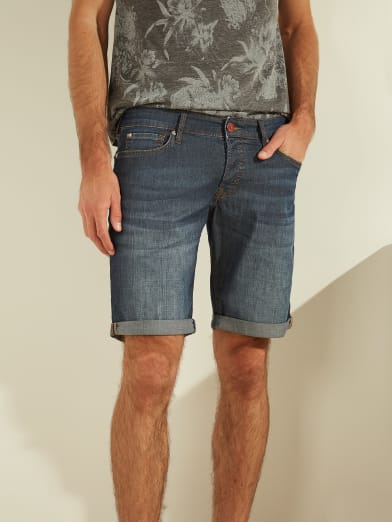 Jeans shorts are what you should always have in your wardrobe, it is a very easy garment to combine with shirts, shirts, sweaters, among many other things. It's comfortable, refreshing, and stylish. You can use it for walks, to go out to a shopping center, for a casual dinner and believe me you will not go unnoticed.
Bermuda
Bermuda shorts are a more serious and formal style, you have no idea how elegant you are going to look if you wear one of these in white, black or blue. They are ideal to always have them because they are easy to combine, plus you can go from formal to informal by changing the shirt or shoes. The best of all is that they look excellent with sweaters, so if the day is not so heavy and hot you can give it a try.
'Navy' style shorts
Navy-style shorts have the peculiarity that they are a little shorter than normal, so I would recommend using them if you go to the beach or the pool, you know, something where the sun is the protagonist and you can take the role from it. The best thing is that you can get it in different models and many colors that will make you look great with any garment that you put on top.
While it is true that all these styles are excellent for the summer, the versatility of this has no limits, since you can use them in different seasons as long as you mark your style and vary a little from the common to look a little better. Because who doesn't like this?
To combine it, we recommend you be very attentive with your shoes, we do not want everything to be ruined by this so when choosing, keep this advice in mind. Another thing that you could implement is glasses or sunglasses to look more in trend with spring or summer, there are infinities of models that can be used to add something completely different to this style.
However, remember that your essence is the one that must stand out even more, do not forget that the important thing is to mark the style from within and always have a good attitude towards life. And you, what would you put differently in this style?
Probably you wanna read:
How to Dress to Go to a Restaurant? Tips 2021
How to Dress As The Rich People Do